About Tim Stonard - My Handyman Tim
I am a local Handyman living in Farnborough Hampshire for 32 years, married with two grown up children.
Being the son of an electrician and the grandson of a carpenter has ensured a high level of confidence working with tools for any job.
With my family background, and having worked on and renovated my previous three homes, I have gained a vast knowledge in home property maintenance.
Although being a handyman is a step change from my corporate working life, it is something I am good at and something I really enjoy.
My career started with an apprenticeship in electronic Engineering with a Medical electronic company in Old Woking manufacturing and supporting Neurophysiology recording instruments.
I then progressed through the company in Technical Customer support and Service management. Following a company take over I diversified into Scanning Electron Microscope service management including support of X-Ray Fluorescence analysis to the scientific industries.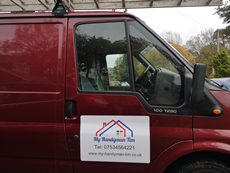 During the more recent part of my career, I was working for a world leading American Material testing company taking care of large capital equipment investments for customers in road vehicle manufacturing and Grand Prix Formula 1.
Leaving the corporate world behind to offer my services as a handyman is something I have longed to do and now find myself in a position to do that.
In my private life I have been the chairman of the St Peters School PTA raising funds for various projects. I was also the Hampshire County Council sponsored Cycling Proficiency instructor for many years at the same school.
I enjoy playing golf and cycling and am a keen Mountain biker, road bike rider and an accomplished Tandem bike rider.
I am now setup to offer help and support in domestic and commercial property maintenance as a reliable, hardworking and trustworthy local Handyman.
---